A Gastronomic Gem of the Greek Islands
Food & Drink
From Argostoli to Lixouri, and from Sami to Poros you'll be able to see that something is differen
Kefalonia is one of the largest GreekIslands, in fact, the biggest island in the Ionian Sea, with the highest number of sunny days per year in Greece.
Kefalonia is well known for its splendid natural beauty and a diversified geological structure, blended harmoniously with the unique charm of its inhabitants. Surrounded with innumerable small bays and covered in rich vegetation, the mountain of Aenos, the highest point of the Ionian Islands standing at more than 1,600 metres, looks impressive enough before even setting foot on the island.
From Argostoli to Lixouri, and from Sami to Poros you'll be able to see that something is different on Kefalonia. The fruitful soil offers a variety of natural products, from the famous Greek olives and olive oil, to rare varieties of wine and numerous fresh vegetables, fruit and other crops.  They all have become the basis for the world-renowned Mediterranean cuisine, a gastronomic genre enjoyed by millions of people. Because of this, Kefalonia boasts some of the best restaurants in the Greek Islands.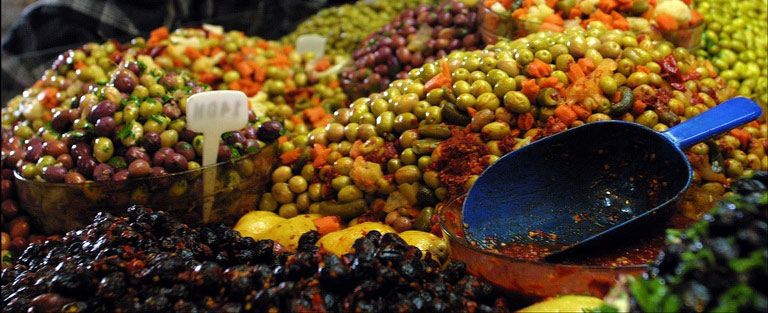 Erisos, a small village next to Fiskardo, is known on the island for its excellent quality of garlic, while Lourdas (in the southern part) has always been a cultivation area, home to a rare variety of banana trees, brought by sailors to Kefalonia many years ago.
Walking around these touristy Greek towns and villages, you will come across local stores and groceries where you can taste and buy the special sesame cakes called 'Pastelia', or 'Mantolato' and 'Comfetos'. Don't forget to buy a small box of handmade 'Mandoles'; crispy baked almonds covered with a red caramel sauce. Mandoles are also used as a dressing on numerous cakes and sweets.A traditional sweet - also served as a desert in many of the Kefalonia restaurants and taverns - is the homemade syrup fruits. They come in small vases in various flavours, with grape being one of the most popular.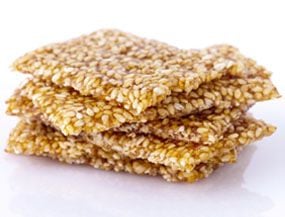 The 'Almond pie' is one of the deserts you should definitely taste while on holiday in Kefalonia; ask for it in all the popular Greek restaurants and cafes around the Greek island. In the Kefalonian highlands, as an alternative, you will be offered the local walnut pie. If you like the herbs, ask the locals for 'Sapsicho': it's similar to marjoram, a bit stronger in taste, and the locals love it.
In Lixouri, go for the local pudding; this is a cool and refreshing refrigerated summer desert. Finally, if you're lucky, you may find a special cheesecake made of 'Myzithra', which is a locally-produced, soft, saltless cheese and a Kefalonia delicacy. The cheese is mixed with dill and cinnamon and offers a unique flavour that most people will have never tasted before in a cake.