Regional Info
Greek Islands: such a small part of the world, and yet one which conjures up many images and sentiments.
Their unique light, turquoise water, distinctive landscapes, ancient sites and lively nightlife have all been captured through numerous photographs and videos. However once witnessed first-hand, the islands' beauty and enchantment are sure to exceed even the most seasoned travellers' expectations.

They are the ultimate European vacation destination and have been voted the  "best island experience in the world"  by Condé Nast readers in 2011. Their immeasurable natural beauty is rivaled by few other places on earth.
 
Since no two islands are alike, almost every traveller can satisfy their personal penchant, for various activities as well as differing regional cuisine.
The region consists of more than 200 islands, 7,500 km of coastline, golden sandy beaches, archaeological sites, and traditional delicious cuisine making it a truly unique vacation spot. And if this sounds too good to be true, Steve Tupholme puts them all together in his amazing video.
The islands are scattered throughout the Aegean and Ionian Seas. Their coastlines offer an astonishing variety of beaches, sheltered bays and coves. One can discover golden stretches of sand, coastal caves and cliffs, black sand from volcanic soil, pebbly beaches, and coastal wetlands, all in one holiday.
For those travelers who prefer to stay active instead of just sun bathing under Greece's famous blue sky, there are a number of adventure sports. Scuba diving, snorkeling, kite surfing, water skiing, sailing and windsurfing are just a few of the activities that are offered on the islands.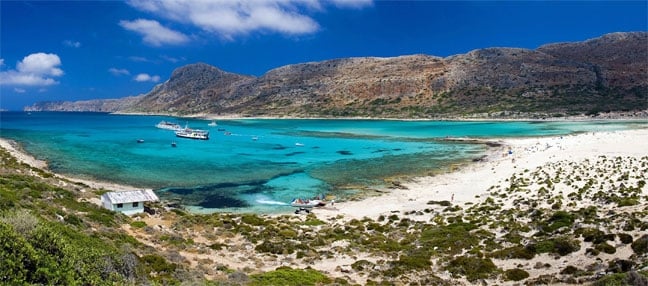 The Greek Archipelago: The Island Groups and Regions
The islands are the country's unique morphological trait and an integral part of its national civilization and tradition.
Some of the world's oldest civilizations were established on the Greek islands such as the Cycladic and Minoan societies. As a result, the Greek Islands are filled with exceptional archaeological sites, a distinctive architectural heritage and fascinating local civilization.
The ideal Mediterranean climate, safe waters and highly accessible ports and coasts have made the Greek islands an extremely popular destination year round.
Most of the islands are found in the Aegean Sea and are divided into seven groups. Let's begin our voyage from north to south.
These less popular islands have not been bombarded by mass tourism and have therefore retained their authenticity more so than the other trendy Greek islands. These islands are no less beautiful than the others and have an air of unpretentiousness, which is especially attractive to nature lovers and families alike, seeking a quiet vacation spot.
Main islands are: Thasos, Lesvos, Limnos, Samos, and Chios.
The Sporades are a group of islands well known not only for their magnificent beaches, but also for their unique and lush flora. Pine forests proliferate in this area and stretch to the coastlines, offering beach goers natural shade. Of this island group, Skiathos is the most cosmopolitan, offering a varied nightlife scene and thus attracting a younger crowd. The other islands are frequented by those who prefer a more relaxed atmosphere
Main islands are: Alonissos, Skiathos, Skopelos, and Skyros
The proximity of these islands to the Greek capital (about an hour) makes them particularly attractive for day trips and short breaks. Celebrities and the jet-set have certainly frequented the infamous islands: Hydra and Spetses
Main islands are: Aegina, Hydra, Poros, and Spetses
The Cyclades are perhaps the most famous group of islands in the Aegean Sea and the ones that conjure up the quintessential vision of the typical Greek island. They have been internationally awarded for their unique charm, and have been continuously listed among the most beautiful islands in the world!

Trademarked by spectacular sandy beaches, barren landscapes, whitewashed houses and tiny remote churches, this island group will not only fulfill every traveller's desire but also offer a lifetime experience
In total this island group consists of 56 islands, but the most frequented ones are:
Amorgos, Andros, Ios, Kea, Kimolos, Milos, Mykonos, Naxos, Paros, Santorini, Serifos, Sifnos, Syros, Tinos, and Folegandros.
This is the most south-eastern island complex of Aegean Sea. This region offers both a sophisticated tourist infrastructure, with expansive resorts, as well as a quieter side for those wishing to avoid the masses. Rhodes is among the most famous islands in the world, with its preserved medieval 'Old City', magnificent treasures, monuments and spectacular festivals. Kos, Simi, Halki and the other smaller islands will guarantee a peaceful, relaxing and memorable holiday
Main islands are: Kalymnos, Karpathos, Kastelorizo, Kos, Patmos, Rhodes, Symi, and Chalki.
---
The Ionian Sea has only one island complex:
Corfu, Ithaca, Kefallonia, Lefkada, Paxi, Zakynthos and Kithira are situated opposite the southern Peloponnese (Lakonia). These are the largest islands in Ionian Sea, and constitute the Eptanissa (7 islands).