Lefkada - A Watersports Paradise
Adventure
The turquoise waters and sandy waterfronts have become a hot spot for all the active guests
One of the rare islands to be visited by car, Lefkada has become famous by Aristotelis Onassis and the renowned island of Scorpios.
It is a green landscape full of remarkable sights, picturesque settlements, and above all, wonderful beaches, which start just from the front-step of the capital. Gyra, apart from its windmills, has a magnificent sandy beach that joins the lagoon with the Ionian Sea.
Heading south you will get to the lively Gialos, and the most photographed beaches of Egremni and Porto Katsiki.
On the west, you should visit the cosmopolitan Nydri, and the magnificent Syvota.
Their turquoise waters and sandy waterfront have become a hot spot for the island's active guests leaving them with unforgettable moments of relaxation and fun.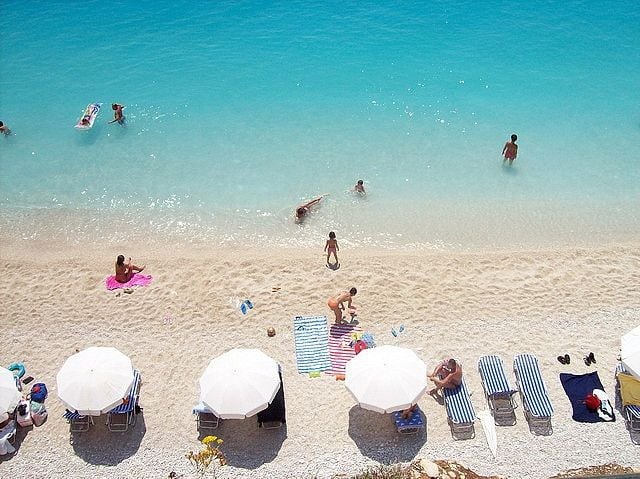 Lefkada has turned into a remarkable summer destination for all the water sports lovers. The maritime arena of numerous beaches and the preferred area of Vasiliki bay, are considered as a seaside paradise for all surfers.
In the summer period, the wind direction, its intensity and the waves which gradually rise during the midday have turned this southwest bay into one of the best spots around the world, and the 3rd best European beach according to world class windsurf athletes and funs.
You may also relax on the sandy surroundings, watching the windsurf experts perform amazing moves with their boards, like slaloms, freestyle, side shore passing and spectacular wave jumps.

On the other side of Lefkada, very close to the capital, you can practice kite surf, at Ai Giannis (St. John) beach, where the wind conditions are similar, but the sea level is ideal for such a sport.
Every day the sky is full of bright colors, while surfers slide on the water and perform stunning moves with their tiny boards.
In most of these areas, you will also find plenty of windsurfing schools, teachers, stores, or rental businesses to get your first ride on the water.
Relax and enjoy
There are so many options to have fun and enjoy the sea while staying at this beautiful island.
At most of the beaches, you will also have the chance to play with the waters and enjoy endless hours of fun with your friends, trying the tubes, on the bananas, and a variety of other inflatable beach toys.
Nydri has the best and well organized centre of water sports on the island, with numerous options, fully equipped, and a long lasting experience in fun actions.

If you are a sea-kayak lover, there is an ideal location at Fanari beach, on Meganisi islet.  
If you happen to visit Lefkada with a yacht or a sailing boat, there a many small islets and bays to stay. Perfect scenery to relax, enjoy the crystal clear waters, or even dive. The impressive morphology of the seabed will fascinate you. The area is full of wells, underwater caves and reefs full of life, offering you unparalleled images and unique memories from your visit to Lefkada island.