Public transport and Taxi
Traveling without your own transportation will never be a problem in a Greek island. Apart from rentals being offered on every single destination, you can always use the local public or private transport.
Taxi Services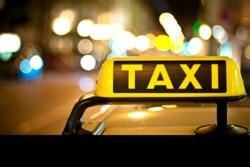 Taxi services are very popular on the islands. Their colours may vary from place to place, but it  won't be difficult to find them. As expected, these are more expensive compared to bus fares, and sometimes the fare is fixed for certain destinations.
You should check in advance what they charge (by asking more than once for the same fare), or check regular fares with your hotel at the reception desk. Fares are also higher between midnight and 5:00 am, and you might pay some extra Euros if you call a taxi from your hotel, or book one in advance with a fixed appointment.
If you think the quality of service or fares from a specific taxi driver is particularly good, do not hesitate to ask for his phone number. He will probably be most willing to serve you on a call basis; you only have to give them a small amount of notice.
---
Water Taxis & Transport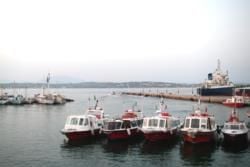 Water Taxi or boat services are also common on the islands.
Water taxis are usually met in most of the Argosaronic ports, and is an easy, convenient and "classy" way to explore these islands.
You have the fastest 24-hour service, to use for any purpose; to visit some of the picturesque, isolated beaches or the nearby islets during the day, or late at night to get you to or bring you back from any of the numerous cozy bars and nightclubs.
Boat services are offered at most destinations. They provide frequent and low fare routes to isolated beaches, or the most popular ones, which are also difficult to reach due to their increased traffic (and difficulty to park if you visit them by car).
If your time on the island is limited, this approach opens up a flexible, relaxed and easy way to see more than one place within a day (beach hopping).
---
Public Bus Services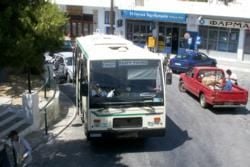 For the majority of the islands public transportation is mainly the local Bus Service Network.
It is fairly easy to explore most of the rather small-sized islands, simply by using this service; and at a rather low price. Main Bus Stations are usually located next or close to the Port, and during the high-season it is easy to find a posted map or list with routes and bus stops together with a time schedule.
In any case, just ask one of the drivers, you will learn all you need to know. The ticket prices vary depending on the destination you want to visit, and if there isn't a kiosk to buy one, you simply get it onboard.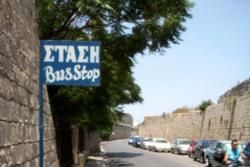 For bigger islands (like Andros, Rhodes, the Ionians or North Aegean) the whole service is extended. Many visitors choose to take a bus to one of the nearby beaches, avoiding annoying traffic, or the daylight nightmare of finding a parking lot .
Don't forget to ask the time of the last bus, if you like staying till sunset and you don't enjoy spending the night on the beach (which I have done several times).
For your convenience, when exploring the relative information on each region and island on the website, you will also have contact details and telephone numbers where available.