Practical Information
Business Hours
Banks: Open 08:00 - 14:00 Monday -Thursday and 08:00 – 13:30 on Fridays.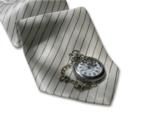 Shops: At main cities and the capital, shops generally open 09:00-15:00 Monday, Wednesday and Saturday; 09:00-14:30 and 17:00-20:30 Tuesday, Thursday and Friday. Shopping malls, florists and bakeries usually open at 10:00 and often do not close for lunch. Chemists are closed on Saturdays.
Staying on an island, you will see that most shops, especially in tourist areas, are open all day, until late at night.
Electricity and Water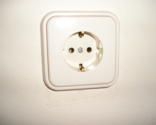 The electric power in Greece is 220V (50Hz), using the European style rounded tip two or three-prong plugs.  You should check before leaving what your personal appliances will need, as you may require a plug adaptor, or transformer/voltage converter for North American visitors. And if you simply forget, don't worry. There are plenty of shops at the airport that sell adapters.
The tap water is chlorinated all over Greece; though you mind find its taste a bit funny, especially in smaller islands. Just ask a local if you can use their tap. Otherwise, we recommend drinking bottled water. Bottles, particularly from supermarkets, are cheap.
Don't forget to take with you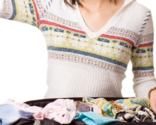 Not all the Greek islands are the same. You may find Mykonos, Santorini, Corfu or Rhodes to be more cosmopolitan than others. There is NO such thing as a dress code during summer. Just follow your mood and enjoy your stay on the islands. I would consider it rather extreme (and rare) if some of the most expensive restaurants and clubs require a more 'formal' dress code.
Don't forget your swimming suit, sunglasses and sun block protection for the beach, or flat shoes if you like wondering around the pebbled-stoned streets at ease!
Depending on the season, it might be nice to have in your suitcase some items with long sleeves and trousers or long skirts; even in summertime, you might feel the night-breeze or summer winds of the Aegean Sea. You should also pack so that you can cover respectably when visiting churches and monasteries.
In case you forget something then no worries; in Greece you can buy almost everything!
Tipping
You don't have to tip wherever you go. If you feel happy with your meal and service it is custom to tip 10% of your bill. In certain periods (during the Holy Week and Christmas) restaurants are obliged to add an extra percentage to the bill, for their waiters.
Dialling Code
The international dialling code for Greece is +30. If you want to make a call inside Greece, you only have to remember to use the area code of the location. For example, calling to an Athens landline number you first dial (210).