Boat Transports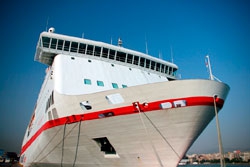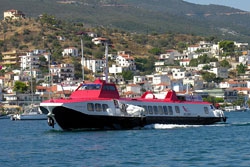 All the Greek islands are connected by ferries to the mainland. The three most-used ports are next to the Athens capital, and to be exact, these are: the port of Piraeus, Rafina's and Lavrion.
More than 2 million visitors take a ferry to the island they have chosen for their vacation.
Depending on your final destination, you can choose from a variety of ports, shipping companies and travel-booking agencies for the tickets. Departure schedules are usually frequent, especially during the summer period, with a choice from flying dolphins, catamarans, high-speed and traditional ferryboats. During the journey you can pick one of the air-conditioned launches, watch TV, have a drink at the snack bars, or enjoy the restaurants and playrooms onboard.
The table below gives you an overview of the Greek islands being served by the available ports around Greece:
 Port
 Destinations

Piraeus

Argo-saronic Islands

Aegina,  Hydra,  Poros,  and Spetses

Cyclades Islands

Amorgos,  Anafi,  Astypalea,  Folegandros,  Ios,  Kimolos,  Koufonissia,
Kythnos,  Milos,  Mykonos,  Naxos,  Paros,  Santorini,  Serifos,  Sifnos,
Sikinos,  Syros,  and Tinos

Dodecanese Islands

Kalymnos,  Karpathos,  Kasos,  Kos,  Leros,  Nisyros,  Patmos,
Rhodes, and  Tilos

North Aegean Islands

Chios,  Ikaria,  Lesvos,  Limnos, and Samos

Ionian Islands

Kythira

Rafina

Cyclades Islands

Andros,  Mykonos,  Naxos,  Paros,  Syros,  and Tinos

Lavrio

Cyclades Islands

Amorgos,  Anafi,  Andros,  Folegandros,  Ios,  Kea,  Kimolos,  Kythnos,
Milos,  Mykonos,  Naxos,  Paros,  Sikinos,  Syros, and Tinos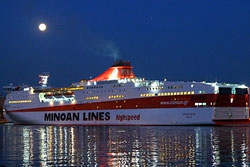 For Kythira, you may also take a ferry from the port of Gythio, at the south-end of Peloponnese.
If your preference is one of the Ionian Islands, you will find it easier to drive till the city of Patras or take the train (it won't last more than 3 hours). Alternatively, you could drive to Igoumenitsa, which is much closer to the islands, and save time on the boat while you will enjoy magnificent scenery and country views.
 Port
 Destinations

Patras

Ionian Islands

Kefalonia and Corfu

Igoumenitsa

Ionian Islands

Kefalonia and Corfu
For better prices and convenient bookings (availability) you better plan your entire trip in advance.
The ferry's roots usually include more than one destination, and might be suitable if you plan a trip to more than one island during your visit.
Most of the shipping companies offer online booking services and departure schedules.
More information, pricing lists and contact details can be found below:
 Bookings Line: (+30) 210-4197400
e-Ticket: available on site
e-mail: customerservice@anek.gr
 Bookings Line: (+30) 210-8919800
e-Ticket: https://domestic-web.bluestarferries.com/(X(1)S(myzngr55hhu5fk55f1tiedar))/default.aspx?lng=UK&AspxAutoDetectCookieSupport=1
e-mail: helpdesk@attica-group.com
 Bookings Line: (+30) 210-4199000
e-Ticket: available on site
e-mail: info@hellenicseaways.gr
 Bookings Line: (+30) 210-4145700
e-Ticket: minoan.gr/en/online-booking
e-mail: info@minoan.gr
NEL LINES
 Bookings Line: (+30) 210-4125888
e-Ticket: available on site
e-mail: sales2@nel.gr
 Bookings Line: (+30) 210-8919000
e-Ticket: http://booking.superfast.com/direct/
e-mail: superfast@superfast.com
VENTURIS FERRIES
 Bookings Line: (+30) 26650-23565
e-mail: office@wavelord.gr