Skopelos on wheels
Adventure
Skopelos is an ideal place for those who like to bike, hike, explore historic sites, and have fun.
Skopelos is considered one of the most beautiful islands of Sporades region. It is the greenest island in Greece, full of pine trees, a dense virgin forest at Mount Delphi creating an image of a peaceful natural beauty.
This is an ideal place for bike lovers. The inland terrain is mountainous and picturesque. Combined with a coastline full of bays and sandy beaches, you will find yourself in a small paradise with eye-catching landscapes.
Skopelos is an ideal place for those who like to bike, hike, snorkel, explore historic sites, eat good food, and drink tasty wine. The entire island has a connection of traffic and dusty roads, different routes available for both novice and experts, giving the opportunity to bikers to travel along the whole island.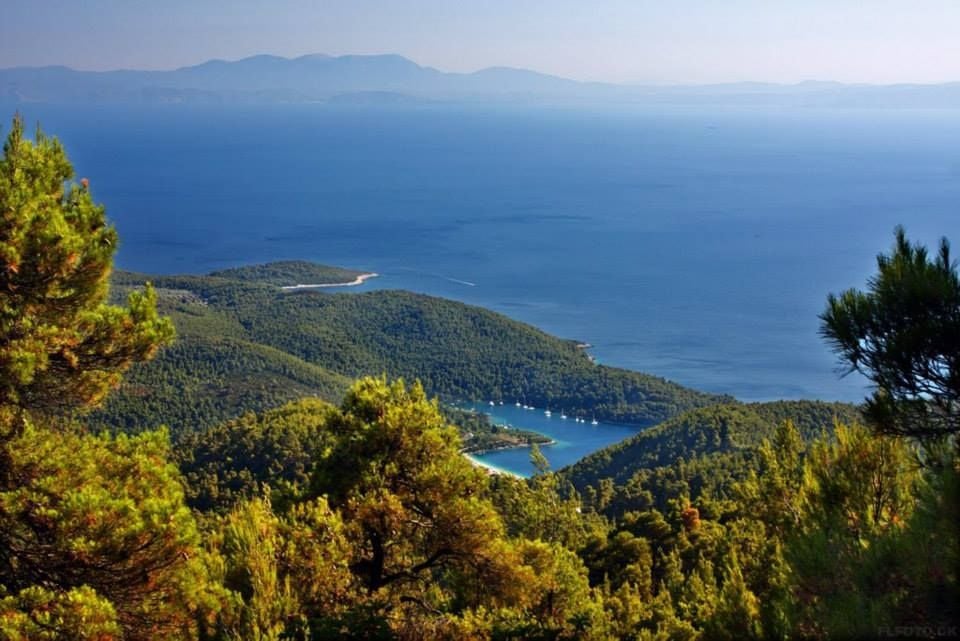 Experienced riders will also find trail paths especially for mountain bikes, off road ascents and the highlight, which is nothing less than the (fast) descent of Mount Delphi.
When not biking, you are able to participate in the other water sport activities offered in most of the sandy beaches, like a snorkeling tour, canoe, kayak, tube, and water ski lessons.
Why cyclists love Greece
Sunny weather and low humidity enable cyclists to enjoy Greece all year round. With mountains, hills and flat routes, Greece is an excellent place for both mountain biking and moderate road biking. Traveling by bike throughout the Skopelos Island, cyclists have the opportunity to experience the scenery, cuisine and history of the coastal areas.

Information about the island
Geographically, Skopelos has a very intense coast line with a perimeter of 67 kilometers, a maximum length of 17 km and width of 8 km. The island has a mountainous terrain, with its highest peak Delphi (680 m.) and Palouki (566 m.).
The island might seem to be small, but every turn on the road hides a small bay, or a sandy beach behind the trees. Wonderful sun-drenched beaches are stretching along the island's pine covered coastline. They have a unique diversity (may be long, small bays and coves, sandy or pebbly beaches, coastal caves with steep cliffs, coastal wetlands), but everybody loves the purity and clarity of the waters, that are so popular and loved.
Apart from the town of Skopelos –Chora, the island also has three beautiful villages, Glossa with its port, Loutraki, Palio and Neo Klima
If you feel like sightseeing, then you should visit the Byzantine monasteries of Evangelistria and Timiou Prodromou, built in idyllic locations. The old Monastery of Evangelistria is famous for its fortress-like precinct and a breathtaking view of the port. Ask directions for the pirates' graves at Sendoukia (ancient graves carved into the rock), and the Episcope, a Venetian building that remained unfinished due to the invasion of the pirate Barbarossa in 1538.

Accommodation, dining and more
The harbour front and Skopelos town provide all visitors with many alternatives on restaurants, coffee shops and bars. The emphasis is on relaxed elegance rather than wild parties!
One of the unique local recipes you should taste is the traditional cheese pie (skopelitiki), a mouth watering delicacy made of crispy pastry in a spiral shape and local goat cheese.
You should also spend a day at Glossa or Loutraki bays in the north side of the island with their traditional charm and excellent restaurants.
The beach front tavernas in Agnondas, Limnonari, Panormos, and Elios are a very popular dining areas during the summer period.
Regarding your stay, Skopelos has all the accommodation options available. You will find luxury hotels, Spas, spacey suites and luxury villas with pools, or even economic room rentals and simple pensions.
And if you don't have a bicycle of your own, do not have to worry. There are plenty of offices where you will rent a modern quality bike, and they will provide all the necessary safety equipment (like helmets, lights and tools) as well as directions and advice to make the most out of your ride.
Some of the island's hotels have also their own collection of bikes, to rent and use during your stay.