More than 400 awarded beaches in 2014
Editorial
Among 51 countries, this year Greece was 2nd with more than 400 beaches!
Greece is 2nd in Europe for its beautiful beaches
Greece is the only European destination, blessed with a coastline exceeding the 7,500 km, and more than 200 islands spread around, in the Ionian and Aegean Seas.
This is a summer paradise, offering an astonishing variety of beaches, sheltered bays and coves. One can discover golden stretches of sand, coastal caves and cliffs, black sand from volcanic soil, pebbly beaches, and coastal wetlands, all in one holiday.
For those travelers who prefer to stay active instead of just sun bathing under Greece's famous blue sky, there are a number of adventure sports. 
Scuba diving, snorkeling, kite surfing, water skiing, sailing and windsurfing are just a few of the activities that are offered on the islands.
Many of the Greek Islands and beaches are also renowned for their lively experiences, offering a number of services, snacks and salads, or refreshing beverages provided by the variety of beach bars scattered along the celebrated sea fronts of the Greek Islands.
Once the sun has gone down, you may be enticed back to the bars for their cocktail concoctions and vibrant night-time scenes.

What is the Blue Flag programme?
On May the 7th, the Hellenic Society for the Protection of Nature was awarded during a ceremony in Crete, for having more than 408 beaches and 10 marinas exceed the criteria for being recognised as Blue flag locations.
They stood out not only for their excellent seawater quality, but also of a number of reasons like, litter management, organization of the swimming area, safety procedures for bathers and protection of the environment, among other factors.
The Blue Flag is a programme of environmental awareness and protection which is implemented every year, on a large scale, in more than 50 countries in Europe and other parts of the world by the Foundation for Environmental Education.
It is one of the best known environmental international symbols worldwide.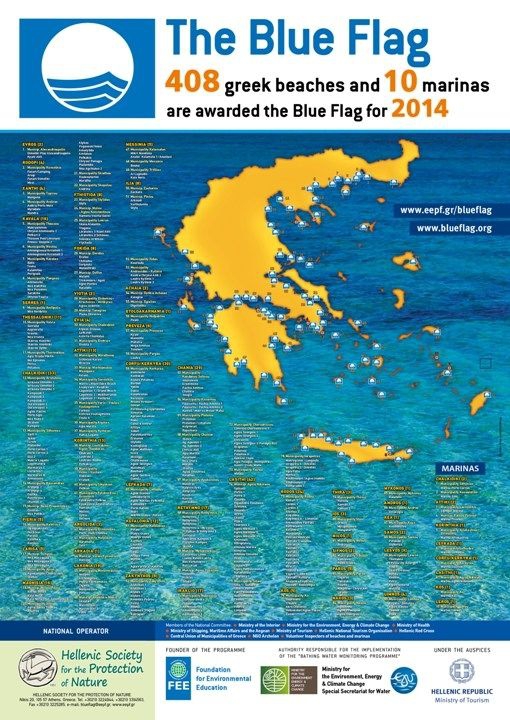 And if you think that it may be easy to gain such a reward, you will see that, in order to receive a Blue Flag eco-label, a beach must not only be found to have an excellent quality of bathing water... there are 33 criteria in total, including cleanliness, environmental management and organization, environmental education and information, visitor safety and services, as well as protection of nature, the coast and the coastal area.
For the marinas, they must also meet 24 strict criteria, which have to do with the cleanliness of the marina, organization, safety of visitors, protection of nature and environmental awareness. They can only keep the Blue Flag for just a year, and go through a constant evaluation throughout the tourist season.

What are you waiting for?
My Guide Greek Islands gives you the chance to explore the beauties of our country. To enjoy the seaside and have fun. To sail around a constantly changing perspective of islands, picturesque harbours, small bays and beautiful beaches.
Combine a leisurely holiday with a diving experience. Explore the underwater seascapes and marine life, which are amongst the best in the Mediterranean. Most of our destinations offer scuba diving, like Kefallonia, in Lefkada, Corfu, or Skopelos.